Uniting pleasure with truth

Bernard Baskin
Books
May 23, 2002

Not too long ago, when a novelist or dramatist wrote with a flame of the highest inspiration, his or her work was said to be "touched by poetry." It was widely believed that no literary genre was closer to the divine then poetry. For Robert Browning, poetry means putting this infinite within the finite, and Matthew Arnold spoke for many when he explained that poetry is simply the most beautiful, impressive and widely affective way of saying things.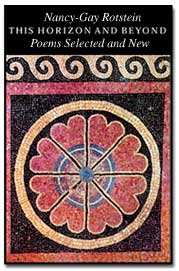 Unhappily, however much poetry was exalted in the past, the sad truth is that contemporary poetry - outside a small enthusiastic circle - is scarcely read. This is sad, because not all modern poetry is difficult or obscure. Much of it still speaks to us if we take the trouble to pause and listen. Today, as in the past, poetry is still the art of putting words and ideas together to unite pleasure with truth.

Nancy-Gay Rotstein is a Toronto poet whose work has been internationally recognized and acclaimed. Her new book contains selections from her three previous books, as well as poems never before published.

In his ample foreword to this book Irving Layton is unstinting in his praise. "Rotstein's poems show her awareness of time and eternity and how they condition each other. Rotstein, like all enduring poets, is aware of the transcendental and eternal existing side by side, and how they condition each other to the eternal discomfort and perplexity of human beings."

The many poems of Jewish interest are warm and appealing, neither banal nor unfathomable. Masada evokes a sense of both yesterday and today in a strange amalgam. "The sun scours / the ancient rocks / baking its limestone / dust. / Birds weave over / reconstructed ruins / witnesses to time. / Silence, sweet and still / screams to be remembered / as skeletons of bravery / lie buried under / burnt stone- / children with mothers / men linked in faith. / Now paratroopers / march over crusty stone / and take their oath / to remember."

The Guide brings to life the familiar Israeli polymath who is able to joke "in five languages / English, Arabic, and Italian / german when necessary." And who "opens doors / waits in marble lobbies / explains history tirelessly / In his pocket, a Gun / on his arm, a Number / in his heart, Steel."

In The Visitor the reader is given a rare glimpse of Alfred Dreyfus at a bagel bar. He is a revenant, an unfelt and undemanding presence. "He sat on / a tri-coloured chair / a century-traveller / unseen among / the Sunday brunchers." History imposes no obligation upon the living as "Unnoted, Dreyfus walks / through double-glass door / and disappears. / Tears pock his / prison-pallored face / a ghost upon the / haunted streets."

This Horizon and Beyond is a luminous exploration of the ambit where history, impressions, memory and imagination pass into one another and through one another. How precious to be able to transform the uncertainty and emptiness of life into human potential and hope.